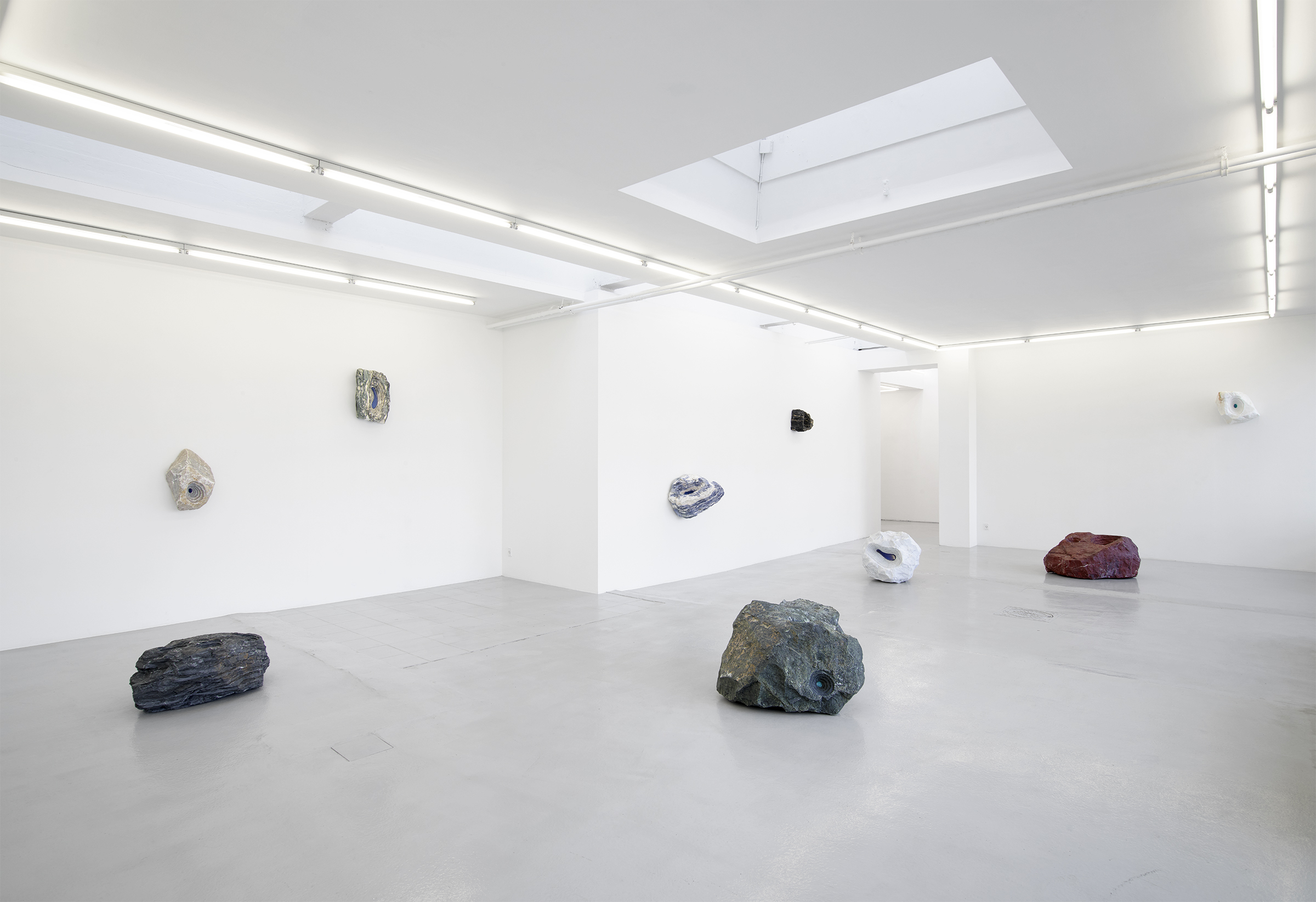 Aquifer
March – April 2022
We are proud to present Amalie Jakobsen's third solo exhibition 'Aquifer' at Gether Contemporary. Here, the gallery space is transformed into a landscape or a remnant, where conventional scale conditions cease and Amalie Jakobsen's new works emerge as almost living sculptural manifestations or memorials to the human imprint on the ecosystem.
Aquifer is a groundwater reservoir, which denotes a rock mass that contains the earth's groundwater – a, for us, normally invisible system of water, but which appears at the bottom of a crater when the last geological natural resources have been extracted in a given place. When Amalie Jakobsen applies sculptural interventions to the marble, she thus mimics the interventions that man practices towards nature, as well as nature's immediate response, the water, and the finished sculptures acquire the character of fragments of an already established system.
Jakobsen's sculptures draw on our shared memory and memories, which she translates into simple and abstract sculptural ideas. Jakobsen communicates on a basis that draws on our imagination, associations and on our bodily knowledge, and works in 'Aquifer' with an embedded ambivalent perspective. On the one hand, the motifs (mine craters or planetary objects) are recognized as some we are used to viewing from above and from a considerable distance through aerial photographs and Google Earth, and on the other hand, the sculptures are recognized as extremely present due to their sensory materiality and their immediate relationship to nature. 'Aquifer' is thus an exhibition that gives the viewer an abstract understanding of space and seems to be changing perspective before our eyes – a scale that also questions our own human size.
Each of Jakobsen's sculptures is made of marble and different rocks from various places on earth and one immediately senses their differences in structure and thus their origin in different geological times. Each stone thus contains its own timeliness which in the exhibition is composed and relates to each other, and gives the space and the experience of it a tactile anachronistic dimension.
Amalie Jakobsen's solo exhibition 'Aquifer' is interested in the complexities of human intervention in nature, and the exhibition contains both a fascination with human technological ability, and at the same time a present sadness over the pumping out of resources. Jakobsen depicts the aftermath and leaves the landscape she creates in the exhibition as a visual consequence of the conscious destruction of nature. 'Aquifer' thus marks a final frontier for the idea of the inexhaustible subsoil and the infinite resources of the earth.